This is a Saving Ninja savings report. Go to How To Track Your Savings to check out the Saving Ninja Super Spreadsheet. Please note that I split my expenses equally with my partner and the savings rate, house equity and house value represent my share only. The spreadsheet calculates my savings rate based off £12,000 worth of expenses per year, even though my expenses are actually Less Than 10k Per Year . This is to create a buffer; I'm aiming for at least 12k to reach financial independence.
---
September brings another month where the stocks have performed badly! They've actually decreased by double the amount that they did in August at around -0.70%. This is still small stuff really as my pots are so small. At this stage I'm almost welcoming the decrease as it means I get to buy em' while they're low! And I'd rather they lose value now than when my pots are big! If I had £1m invested, a negative 0.7% change would actually mean losing £7000 in one month…Yikes!
My pension contribution change has finally gone through and I'm now contributing £2500 per month into it. This has pushed my total monthly contributions up by another £700, which has in turn, upped my savings rate to 78.99%! The [Saving Ninja Super Spreadsheet](how-to-track-your-savings rel=) uses your average savings rate from the year to calculate your expected time to FI, this has now gone up to 76.57%. Thanks to this change, my years to FI has shot down from 5.6 years to 5.1 years! This should also come down considerably each month as my average savings rate catches up with my new monthly savings. My total net worth now sits at £58,133.14, bringing me one step closer to that first milestone of £100k ! If my stocks didn't earn anything and I carried on contributing £3500 per month, I should reach that milestone within 12 months. Hopefully, my stocks will perform a little though, and I expect to be contributing at least an extra £8k to use up my ISA allowance, so I'm going to make a prediction that I'll reach that 100k figure in around 6 to 8 months (April-June 2019). Let's try to beat it!
Other Thoughts
I've decided to forgo the employee share scheme which I discussed last month . I was so close to picking it up, but then I realised that I really didn't want to stay there for longer than a couple of years. I've always wanted to move abroad to Canada or the USA to work and eventually retire. Thankfully due to my university degree in a 'skilled subject' and having over 5 years of professional experience, getting VISA sponsorship shouldn't be too difficult, it would just take time. However, it would be a lot easier if I applied before I turned 30 years old. Some VISAs are even restricted to under 30-year-olds. I've always said that if I end up not moving away, I'll instead pursue contracting in London so that I can earn a high salary whilst still living in England and invest more. Both of these things would mean moving on from my current position in just over a years time. If I joined the share scheme, it wouldn't actually properly begin until January, I'd then have to contribute for a further 3 years until they vest, pushing me way past my current time schedule. I got a letter through the post that stated I needed to file a corporation tax return before Christmas for my company, this got me thinking…Shit, is there anything I should expense? From speaking with the contractors at work, apparently, I should be thinking and expensing any electronics and stationary to 'make the most of it' and save on the 20% corporation tax. I'm all for paying taxes, but upon finding out that HMRC charge £20 just for me to 'confirm' that my company details are the same each year and for the tens of thousands that they steal take for the notorious stamp duty tax, my work from home technology company could surely do with a few new gadgets? I was already going to expense some kind of writing laptop. Initially, I was thinking a MacBook so that I could develop iOS applications on it as well, but now I'm leaning more towards a Chromebook as I think that what I said about iOS applications is just my brain trying to get me to buy shiny expensive things… I've started a list for my potential other 'expenses'. It goes something like this:
Smart watch: Apparently my 'health' can be expensed by my company. I've never owned a smartwatch, but I do cycle to work and it would be nice to have the distance accurately measure. I was thinking of something like the Fossil Q Explorist .
Ethernet wall plug adapters: Those internet things that you plug into a socket and they let you connect like you're using an ethernet cable. Those things are bloody expensive! I might wait until black friday comes around.
Computer monitor: I've had my eyes on one of these 180Hz 1ms response time monitors for quite a while. I need to improve my Overwatch game!
PC case: My current one is a bit knackered.
Mobile phone: I've only had my phone for 1 year but *cough* my girlfriend needs a new phone *cough*. So I could probably do with a new one.
All in all, I've got about 3k of profits this year that I can expense. I could always take out a 1k 'tax-free' dividend to save on the 41% income tax, but, this would still mean paying 20% corporation tax, so I'd rather expense things that my 'company' needs instead.
Free Money!
My matched betting side-hustle has gone through the roof this month. Here's a picture of my profit snapshots for the last week.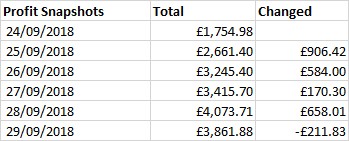 This is all from EW horse betting. I started on the 13th of September, that's 4k profit in 2 weeks! On top of that, I only actually started with £5 each way bets. I went up to £20 each way on the 27th. If I had started on £20 each way from the beginning, I'd be sitting on about £7k profits right now. I'm pretty confident that with EW betting, I'll easily be able to net 5k per month (and that's being conservative!).
Doing some quick-fire maths over at The Salary Calculator , I'd roughly need to earn an additional £140k taxable income per year to get the same 5k extra per month that matched betting is getting me. Even with no income, you'd need to earn 105k per year alone to make 5k per month after tax. If it keeps going this well, it may shave years off my FI date. Let's hope it's this profitable for a while longer! I'm kind of obsessed with EW betting at the moment. I'm even planning on getting Mrs Ninja in on it too (if only she had a new, faster phone to bet on ;] ) I'm planning on adding an EW betting section over on the matched betting guide at some point this month. If you haven't started matched betting yet; you should! You need to do the new account offers before you get started on EW betting, so head over to the guide ! The new kitchen is not long off now, only 28 days until the fitting starts! I saved £700 from removing the old kitchen myself and £200 from changing the electrical sockets and light fitting. I ended up agreeing to pay the plasterer to do the painting, so lost £250 there, but I'm hoping he'll do a better job than I would have done! We've basically been living in a kitchen that is unusable for over a year now, so can't wait to get this one finished. It will hopefully add some value to the house too - we'll see!
Join The Discussion
What else can I expense?
How are your side hustles doing?
How did your savings do this month?