---
The US stock market continued to do well in July which saw our finances take another leap forward. I filled up both mine and my wife's Roth IRA's at $6500 each. The process to roll them over from traditional IRA's wasn't too hard, I did it all within Interactive Brokers. These accounts will act similarly to English ISA's, growing tax free.
Monthly Spending
We're not feeling the burn from contributing $10k per month yet. As we moved to a no tax state, the extra income has really helped us stay in the green after contributing that amount each month. Even with our new, higher rent, our expenses seem to only be averaging $3k per month.
We have just splurged on one of our most expensive holidays ever. We'll be going to Italy for 3 weeks later in the year. The flights alone were $1200 now that we're in the states - Italy is no longer a nice £100 for 2 people return trip!
The trip is happening as one of my cousins is getting married, we decided to take this opportunity to also see my parents, take a little road trip through Italy on our own, and then meet Mrs SavingNinja's parents for 4 nights in the south of Italy.
We're excited for the trip but now that we're in the USA it does make it a lot more complicated. Getting to the airport will be a 2h trip, driving for part of the way and then getting a coach. Then we'll be flying through the night with a lay over in Paris. If we were to ever visit Mrs SavingNinja's parents in North Devon, it would be even more complicated.
We knew that it would be harder to visit family of course, we didn't think that it would matter as we only visited once or so a year when we lived in the UK, but there was something about knowing that we could easily visit if we wanted to that felt comforting.
Writing
Mrs SavingNinja has now finished her first ever full sized novel, it's been fully edited, the cover is made, and it's gone out to beta readers. It's around 300 pages long and we've both learned a lot throughout the process.
She's already half way through the draft of the second book in the trilogy and we plan to release book 1 when we're confident that all 3 can be released 1 month after another.
We're both super excited to see how well this does, and I'm looking forward to getting my teeth into learning Amazon and Facebook ads. All we need is a little bit of success as an indication for this to be worth pursuing further.
I'll keep you guys posted!
Other News
Summer is going well, we've spent a lot of time hiking beautiful mountain trails and swimming in lakes and rivers.
Here's a view of Squam Lake from a hike we did before going in to paddle board.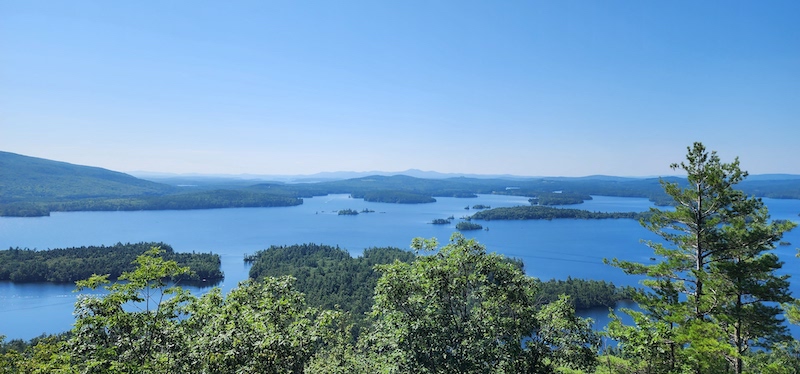 New Hampshire is more beautiful than we were expecting and due to the mountainous landscape, we may even be starting to prefer New Hampshire over Vermont.