This is a Saving Ninja savings report. Go to How To Track Your Savings to check out the Saving Ninja Super Spreadsheet. Please note that I split my expenses equally with my partner and the savings rate, house equity and house value represent my share only. The spreadsheet calculates my savings rate based off £12,000 worth of expenses per year, even though my expenses are actually Less Than 10k Per Year . This is to create a buffer; I'm aiming for at least 12k to reach financial independence.
---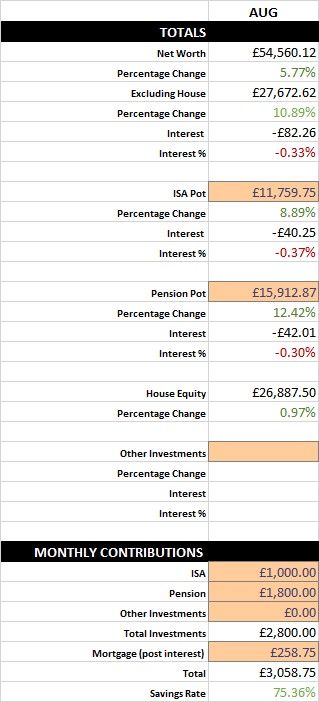 Month two already! This month has gone really quick as I was on holiday for half of it. It's always nice when you go away and come back to it almost being pay day again!
My net worth has increased by a decent 5.77% this month, with an even more decent 10.89% rise if you exclude the house equity. These changes are so big due to the still relatively small amounts which I have invested, I should imagine they'll get smaller and smaller as time goes on. There was actually a decrease in my stock values since Julys Savings Report. I'll let FIREvLondon do the explaining for this one as he's the expert :] They've only fallen by a very small fraction, and we FI pursuers are in this for the long hall so, not to worry! Again, I contributed £1000 into my ISA and £1800 into my pension. My pension contribution change to £2500 per month has yet to go through. It takes bloody forever for HR to do things in a big corporation! I'm hoping that by the next Savings Report, it will have increased. My expected FI date is now 5.7 years. I'm hoping to see this jump down when my pension contribution increase has gone through.
Other Thoughts
I'd quite like to have this section as a kind of diary entry as I'll be doing this reporting malarkey each month so it seems like the perfect place to jot down my thoughts and rambles. If I didn't do this, it might get quite monotonous droning on with "I deposited another 1k, woo." each month! I'll be keeping this informal, so, sorry if it comes out all backwards, the words will be coming straight out of my head :] With regards to money, I've been offered the option to participate in my employers share-match scheme this month. It sounds pretty good; I can basically deposit up to £500 per month into the scheme for the next 3 years. I'll then get the option to either buy company shares at the value which they were this August (at a 20% discount!) or, withdraw all of my money. This could potentially earn a lot of money as even if the share price has doubled or tripled, I'll still be able to buy them at the price that they were on this exact month. That with the additional 20% discount makes it an awesome offer. On top of that, if the share price drops, I can always just withdraw the cash instead. It makes the deal a win or draw situation. The only thing which is making me think twice is that I don't know if I'll be there for another 3 years. If I leave before the maturity date, I'll just get my money back. Which will be frustrating as I could have been filling my ISA or pension instead and reaping the rewards of those accounts. I've got to make my decision within the next 2 weeks! I'll let you know what I choose in my next Savings Report :] On top of that I've got another couple of big expenses coming up. First is our new kitchen! This is going to be installed in October. We've still got a lot of shopping to do with this one. This will be our first new kitchen and it's so bloody difficult to decide on things like what tiles and paint to use, especially when you're thinking about cost too! Don't even get me started on finding builders that won't rip you off! Second is our wedding. I'll be getting married to Mrs Saving Ninja in 11 months time. Luckily our family is helping with funding but there are still contributions and costs to be made by us, I've yet to settle all of this up! TheFIREStarter mentioned me in his blog last week. This was a pretty exciting thing to wake up to whilst being on holiday! A lot of my new subscribers have come over from him (Hey!). This was my first mention, and for a new blogger it can be quite demotivating to write at the beginning when you think that nobody is reading, so I can't thank him enough for this. Now I'm fuelled up and raring to go! I've got a lot more content planned including side hustle guides and more offer seeking good'ness. I'll also be ordering a blog writing/development MacBook from Apples new line-up which will hopefully be announced on the 12th (which will awesomely be funded by one of my side-hustles-turn-business tax free!). So I'll be able to get hunkered down during commute time and lunch and write a lot more articles for you guys!