---
This month saw a little rebound in the stock market, but I'm unsure whether it's currency fluctuations or actual investments shifts anymore. I contributed my usual $10,000 in our pre-pension accounts; then at the end of March I topped them up with another $6,900. The reason I added this additional contribution is because we've finally been approved for a credit card with a reasonable limit ($8000). We can now use the credit card as an emergency fund instead of keeping a lot of cash in current accounts.
These contributions combined with my usual pension contributions added up to the most we've ever invested in a month at $19,500 (ignoring last June when we moved to the US and invested our property equity).
Good Bye Winter
We got in one more big snowboarding car camping trip in March. This time we went to Saddleback, then Black Mountain in Maine. These were some of the best conditions we've experienced due to a snow flurry earlier in the month, it was an awesome trip to wave off the winter before we stashed our snowboards away for the year.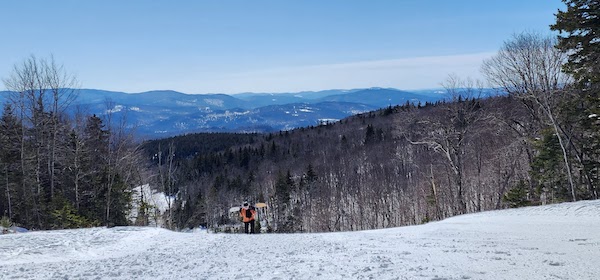 Moving States Still…
Last month I told you that we were moving states to New Hampshire and planned to buy a house. We've now decided not to buy a property, but we're still going to move states and rent.
There were too many negatives to buying right now: Interest rates at an all time high, doom-sayers saying that the property market will inevitably crash, 10% fees when buying and selling with the possibility of getting laid off and having to leave the US. All of this combined with the fact that if we do end up getting permanent residency in the US, we'll want to move again in 2-3 years anyway, renting was looking better. We ended up signing a lease on a $1800 per month property, this is $400 per month more than what we're paying now but the property is much bigger (3 bedrooms, 2 bathrooms, and a dishwasher!) And with the income tax savings in New Hampshire we'll still be at least $500 per month better off.
The best thing about the new property is…
It's in the nicest location ever!!
It's right in the middle of The White Mountains of New Hampshire. People from all over the world come here to see the fall colors, this is what we'll see out of our window in October: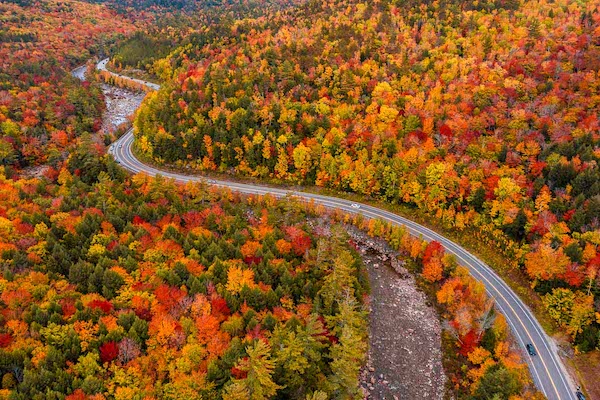 We're really excited to live in our first truly rural property. It will be a nice trial to see if this type of living is really want we want in our dream home without taking on any of the land maintenance or purchasing risks.
---
There's nothing else to report for March!
How was your month?