This is a Saving Ninja savings report. Go to How To Track Your Savings  to check out the Saving Ninja Super Spreadsheet. Please note that I split my expenses equally with my partner and the savings rate, house equity and house value represent my share only. The spreadsheet calculates my savings rate based off $20,000 worth of expenses per year, even though my expenses are actually Less Than 15k Per Year . This is to create a buffer; I'm aiming for at least 20k to reach financial independence.
Click here to see all of my past Savings Reports and view my interactive net worth chart
---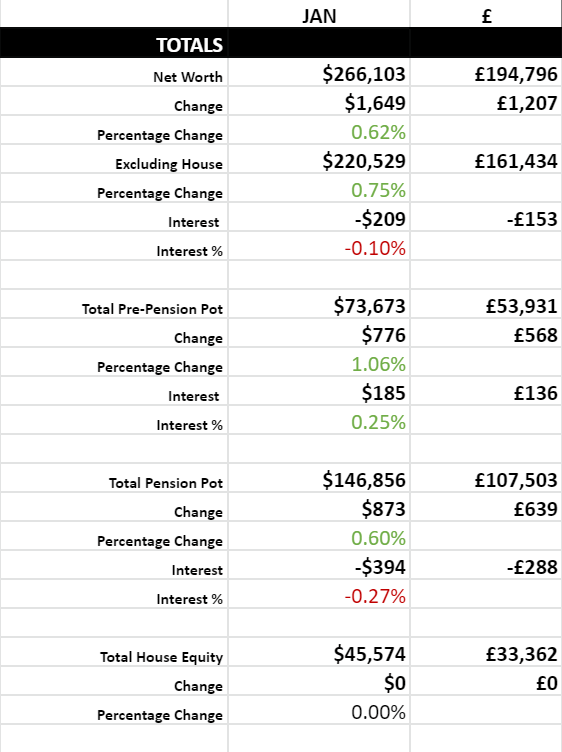 I spent DAYS updating the Super Spreadsheet to support dynamic / multi currency. But looking at it now, I hate it. I guess when you've used a specific format for 30 months in a row, it's hard to change.
My main salary is now in Swedish Krona, but I also hold a UK pension and ISA, and a large part of my new salary (in the form of stocks,) is in USD. So it kind of made no sense to continue documenting my net worth as GBP, and as of right now, I'm still smitten with the idea of eventually moving to the US, so the USD seemed like the best currency to convert everything to.
But…it's weird, I'm used to tracking my net worth in Great British Pounds; this has been my yard stick for measuring my progress, I feel like I'm a little in the dark when just looking at dollars. For now, I've added a conversion next to the dollars for GBP so I can refer back to it until I (and you,) get my bearings.
So, yeah, I've blasted through my quarter of a million DOLLARS goal! Not quite as good as pounds, but maybe I can celebrate both achievements in this new, multi-currency, world?
Tech Debt
Of-course, now that I've moved countries, and currencies, this invalidated a lot of my pillar posts like My Journey to Financial Independence in the UK , in fact all of the history on that post is now a little weird and switches from GBP to dollars, should I just go ahead and update all of them?
Even the top section of these Savings Reports which states what my expenses are is now incorrect. I've changed '£12,000 worth of expenses per year' to '$20,000 worth if expenses per year' this is quite a bit higher than £12k, but it's also, of course, plucked out of thin air as we still have no idea what our nominal expenses will be in Sweden. This also links to an article where I explain my '£12k a year expenses,' which is now, also, wrong! There is a lot of tech debt to deal with, maybe I should be relying less on circular dependencies?
When will I hit FI Now?
Plugging my new $20,000 figure into the spreadsheets' FI calculator, it states that I have almost 7 years to go. This has grown dramatically from the 19 months which is stated at the bottom of this website. Although, my years to FI formula is calculated based off the years' average savings rate, which is currently not much, but should be increasing soon! When it does, my time remaining should drop again.
Meme Stocks
I never was against picking some stocks with a very small percentage of my portfolio. So, when I saw some Reddit posts on GME at $88 and then the day after it grew by 300%, I grimaced. I then threw £100 on AMC, BB, and Nokia and lost 50% almost instantly.
I'm taking the loss on the chin though. It's still a very small percentage of my portfolio, and my thoughts are; I bought these as a hedge against another meme stock growing ridiculously. So I'll either keep them until they triple in value, or go down to 0; knowing that I'm more than likely to lose it all. If one of them does 'YOLO' like GameStop did, I'll use the profits from that for more risky r/WSB style punts.
Buying a Second Home
We've just signed the contract for our new Swedish house, and we hope to move in around April. We're really excited to move into this place as it's very unique. It's actually smaller than the flat that we're currently renting, but, it's fully detached with a garden, and it's only 4 minutes walk from the sea.
It's actually a new build which comes with a top of the range kitchen, under floor heating, along with an iconic European metal roof which is sharply sloped to fend off the heavy snow falls.
We're paying around £300k for it with a 15% deposit which is more than we've ever paid before. The house also comes with a £200 monthly union fee which covers the building and common area maintenance and insurance as is the style in most of these Swedish new build areas. Trying to navigate the Swedish paperwork, it seems this fee also contributes towards a mortgage which was taken out on all of the buildings (there are 12 of them,) so really the property costs more than £300k, but it's hidden behind this community fee. When I calculated all of this, I thought the builders must be raking it in!! But, like most things in Sweden, tax is so high that it's mainly the government that is raking it in.
What made me feel better about these fees is that this cost (the purchase price and monthly fee) is actually way lower than if we'd bought in central Stockholm, this place is about a 1h commute out of the city. We were considering some flats which were 30 minutes out of the city costing over £350k with a £350 monthly fee (although this fee did include electric and heating too.)
Working from Anywhere
Annoyingly, straight after we signed the contract for our new property, my employer announced a new work from anywhere initiative. Employees can now work from anywhere within their existing region (EMEA for me,) receive the same salary and they will contribute to the employees bills and office equipment, they'll even pay for a co-working space if they don't have an office where you choose to live. This marks the first steps toward a distributed-first work place, as I'm sure will become the new norm for a lot of people post-COVID.
This has proceeded to send us into options overload with thoughts like…"We can work from anywhere, why would we choose Sweden?" But due to Mrs SavingNinja still having an in-the-office job at a school, and COVID still restricting travel, not to mention that we've just closed on a house purchase, we are kind of ignoring this new information for now. We'll settle for at least a couple of years whilst we plan our next course of action, but this certainly changes the future dramatically and will definitely warrant a full post!
---
How was your month!?