"Why are you surprised that traveling does you no good, when you travel in your own company? The thing that weighs on your mind is the same as what drove you from home."
I felt the sting of this quote when I read it. My constant craving for wanderlust has been a fixture in my mind for as long as I can remember; It's been the answer to all of my problems, I think to myself; The way I will find real and everlasting happiness…
But this quote defiles that thought…
It shifts my perspective and points the blame at me. I can travel to anywhere that I want, but I'll still feel the same; the problem lies within my own mind.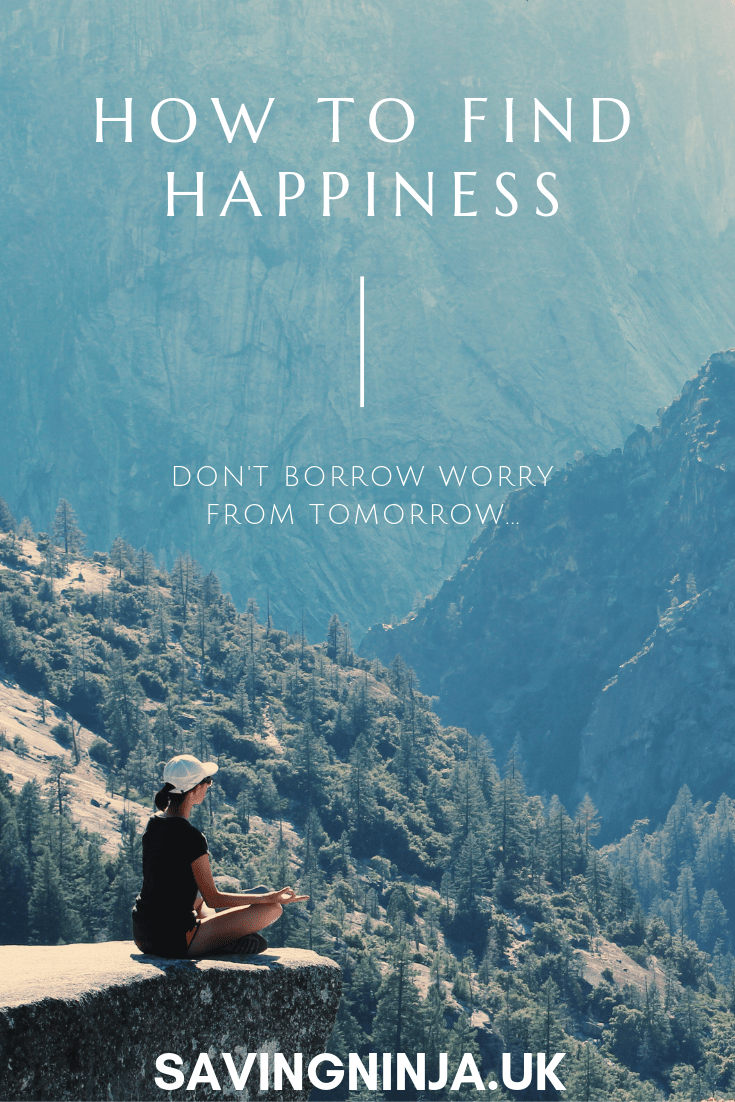 Don't Borrow Worry From Tomorrow…
I used to know this.
Below are my favourite quotes from Robin Hobb's famous fantasy
anthology:
Do not agonize about yesterday. Do not borrow tomorrow's trouble. Let your heart hunt. Rest in the now.

Robin Hobb**, Fool's Assassin **
When you borrow trouble against what might be, you neglect the moment you have now to enjoy. The man who worries about what will next be happening to him loses this moment in dread of the next, and poisons the next with pre-judgment.

Robin Hobb**, Ship of Magic **
After reading them, they became the motto for my life. As an expert worrier, I tended to spend more than 75% of my time worrying and being unhappy about future possibilities. When implementing the method of not borrowing worry from tomorrow, I effectively alleviated three-quarters of my life from the shackles of worry-anxiety.
Of course, sometimes I need to remind myself of these quotes, our minds seem to drift in and out of awareness as we monotonously progress through life, so, occasionally, worry sneaks up on you. But most of the time, I stick with it!
Getting Out of the Neutral Zone
It's great to not worry as much, but I don't just want that, I also want to be happy. That feeling that you get as a kid the day before you go on a family holiday which you've been looking forward to for months, the awe and excitement that you feel; I want to feel that most of the time. We live in a beautiful world; it should be our default states.
Eliminating worry (for the most part) is good for pushing the pendulum from the despairs of anxiety and making room for Mr. Happiness to come and grasp you, but you won't fall into this happiness on your own, you need to make it for yourself.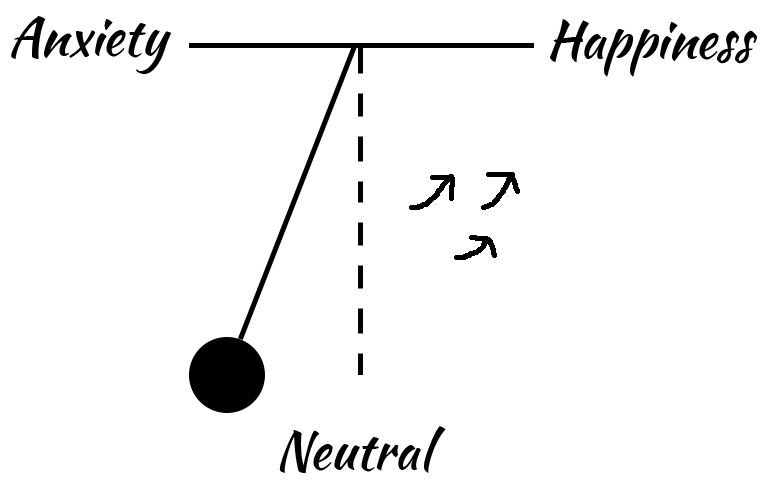 You need to get out of the neutral zone.
There's an excellent Ted Talk called The Surprising Science of Happiness which describes each person having different levels of base happiness. For example, if you scaled happiness from 1 to 10, your baseline might be 7, mine could be 3.
My maximum happiness could be your baseline. This is why some people are generally happier than others, or more depressed.
With this being the case, it must be a lot harder for lower happiness level individuals to feel content. I've discovered in recent years that I'm definitely in the lower bracket, it takes a lot more for me to feel a shred of emotion or excitement, much more than it does for my partner. The worst thing is, I don't think that I was always like this.
I suffered a major stint of job-related stress at my last position, it also coincided with moving into my first home and starting to work in London (along with a 3 hour round trip commute). It mentally and physically drained me. I lost my happiness, even when I knew that nothing was wrong.
I believe this event is what drained my peak happiness barometer. But I'm also faithful that I can reset it, I just need to find out how, and I'm hoping that you guys can join me.
How to Find Happiness
With this blog post, I'm proposing a new post series titled 'How to Find Happiness.' Within this series, I hope that we can find internal happiness through exploration and experimentation. Below I've compiled a list of the books that I plan to read. They range from philosophy and communication to mindfulness and meditation.
The new series will explore each book in detail, try to implement their teachings and document the results, and I invite all of my readers and fellow bloggers to take part.
Pick a book, or add one to the list, analyse it, and try to practice what they preach within your own life. Report your findings via any medium and let me know your results. These findings will form the soon to be section of this website dedicated solely to happiness and self-fulfillment. It will document everyone's analysis and results and become a positive repository for helping people on the FIRE path (and in general) to find internal wellbeing.
A lot of people chasing financial independence forget to live in the now, but I believe, if we all work together, we can find out how to change for the better. To live life in the now, whilst also saving for our future. We can become healthier, mentally and physically, and live happier, more fulfilled lives.
Think of it as a book club between bloggers for a positive goal. It doesn't even have to stop there, if you know of a positive YouTube video, lecture or TV show to watch, we can add it to the list of exploratory topics. If you haven't got your own blog, write a story anyway and I'll feature it as a guest post, what we build will be able to help the masses.
The Happiness Book Club
So, without further ado; here's the list of books that I've personally compiled which I'm going to focus on, to begin with. I invite you all to also pick a book, read it and provide feedback on your results.
Man's Search for Meaning - Frankl (165 pages)
Psychiatrist Viktor Frankl's memoir has riveted generations of readers with its descriptions of life in Nazi death camps and its lessons for spiritual survival. Based on his own experience and the stories of his patients, Frankl argues that we cannot avoid suffering but we can choose how to cope with it, find meaning in it, and move forward with renewed purpose. At the heart of his theory, known as logotherapy, is a conviction that the primary human drive is not pleasure but the pursuit of what we find meaningful. Man's Search for Meaning has become one of the most influential books in America; it continues to inspire us all to find significance in the very act of living.
Stumbling on Happiness - Gilbert (263 pages)
Why are lovers quicker to forgive their partners for infidelity than for leaving dirty dishes in the sink? • Why will sighted people pay more to avoid going blind than blind people will pay to regain their sight? • Why do dining companions insist on ordering different meals instead of getting what they really want? • Why do pigeons seem to have such excellent aim; why can't we remember one song while listening to another; and why does the line at the grocery store always slow down the moment we join it? In this brilliant, witty, and accessible book, renowned Harvard psychologist Daniel Gilbert describes the foibles of imagination and illusions of foresight that cause each of us to misconceive our tomorrows and misestimate our satisfactions.
Flow: The Psychology of Optimal Experience - Csikszentmihalyi (303 pages)
Psychologist Mihaly Csikszentmihalyi's famous investigations of "optimal experience" have revealed that what makes an experience genuinely satisfying is a state of consciousness called flow. During flow, people typically experience deep enjoyment, creativity, and a total involvement with life. In this new edition of his groundbreaking classic work, Csikszentmihalyi demonstrates the ways this positive state can be controlled, not just left to chance. Flow: The Psychology of Optimal Experienceteaches how, by ordering the information that enters our consciousness, we can discover true happiness and greatly improve the quality of our lives.
Blink: The Power of Thinking Without Thinking - Gladwell (296 pages)
Drawing on cutting-edge neuroscience and psychology and displaying all of the brilliance that made The Tipping Point a classic, Blink changes the way you'll understand every decision you make. Never again will you think about thinking the same way.
The Untethered Soul: The Journey Beyond Yourself - Singer (200 pages)
Whether this is your first exploration of inner space,_ or you've devoted your life to the inward journey, this book will transform your relationship with yourself and the world around you. You'll discover what you can do to put an end to the habitual thoughts and emotions that limit your consciousness. By tapping into traditions of meditation and mindfulness, author and spiritual teacher Michael A. Singer shows how the development of consciousness can enable us all to dwell in the present moment and let go of painful thoughts and memories that keep us from achieving happiness and self-realization._
Incerto 4 Book Bundle: Antifragile, The Black Swan, Fooled by Randomness, The Bed of Procrustes - Taleb (1520 pages)
Nassim Nicholas Taleb's landmark Incerto series is an investigation of luck, uncertainty, probability, opacity, human error, risk, disorder, and decision-making in a world we don't understand, in nonoverlapping and standalone books. All four volumes—Antifragile, The Black Swan, Fooled by Randomness, and the special expanded edition of The Bed of Procrustes, updated with more than 50 percent new material—are now together in one ebook bundle.
All About Love: New Visions - Hooks (240 pages)
All About Love offers radical new ways to think about love by showing its interconnectedness in our private and public lives. In eleven concise chapters, hooks explains how our everyday notions of what it means to give and receive love often fail us, and how these ideals are established in early childhood. She offers a rethinking of self-love (without narcissism) that will bring peace and compassion to our personal and professional lives, and asserts the place of love to end struggles between individuals, in communities, and among societies. Moving from the cultural to the intimate, hooks notes the ties between love and loss and challenges the prevailing notion that romantic love is the most important love of all.
Making Space: Creating a Home Meditation Practice - Hanh (92 pages)
Find peace and calm amid the busyness of your life with this new book by Zen Master Thich Nhat Hanh. Designed to be both inspiration and guidebook for those new to mindfulness practice, Making Space offers easy-to-follow instructions for setting up a breathing room, listening to a bell, sitting, breathing, and walking meditations, and cooking and eating a meal in mindfulness. Whether you live alone or with a family, this beautifully illustrated book can help you create a sense of retreat and sanctuary at home.
A Field Guide to Getting Lost - Solnit (209 pages)
Whether she is contemplating the history of walking as a cultural and political experience over the past two hundred years (Wanderlust), or using the life of photographer Eadweard Muybridge as a lens to discuss the transformations of space and time in late nineteenth-century America (River of Shadows), Rebecca Solnit has emerged as an inventive and original writer whose mind is daring in the connections it makes. A Field Guide to Getting Lost draws on emblematic moments and relationships in Solnit's own life to explore the issues of wandering, being lost, and the uses of the unknown. The result is a distinctive, stimulating, and poignant voyage of discovery.
Happiness by Design: Finding Pleasure and Purpose in Everyday Life - Dolan (256 pages)
As a Professor of Behavioural Science at the London School of Economics, Dolan conducts original research into the measurement of happiness and its causes and consequences, including the effects of our behaviour. Here he creates a new outlook on the pursuit of happiness - it's not just how you feel, it's how you act. Happiness by Design shows that being happier requires us to actively re-design our immediate environment. Enough has been written on how to think happy. Happiness by Design is about how to behave happy and how to incorporate the most recent research findings into our everyday lives.
Wherever You Go, There You Are: Mindfulness Meditation in Everyday Life - Kobat-Zinn (304 pages)
In this book, the author maps out a simple path for cultivating mindfulness in one's own life. It speaks both to those coming to meditation for the first time and to longtime practitioners, anyone who cares deeply about reclaiming the richness of his or her moments.
Happier - Ben-Shahar (192 pages)
Can You Learn to Be Happy? YES . . . according to the teacher of Harvard University's most popular and life-changing course. One out of every five Harvard students has lined up to hear Tal Ben-Shahar's insightful and inspiring lectures on that ever-elusive state: HAPPINESS.
The Art of Fully Living - Gur (264 pages)
In this stirring book, author, blogger and lifestyle entrepreneur, Tal Gur offers his own transformational journey as an inspiring example and practical guide to implementing the art of fully living to its fullest potential. You'll learn how to actualize your potential by forging all aspects of your life through the process built into your life goals. 
The Subtle Art of Not Giving a F*ck - Manson (224 pages)
For decades, we've been told that positive thinking is the key to a happy, rich life. "F**k positivity," Mark Manson says. "Let's be honest, shit is f**ked and we have to live with it." In his wildly popular Internet blog, Manson doesn't sugarcoat or equivocate. He tells it like it is—a dose of raw, refreshing, honest truth that is sorely lacking today. The Subtle Art of Not Giving a F**k is his antidote to the coddling, let's-all-feel-good mindset that has infected American society and spoiled a generation, rewarding them with gold medals just for showing up.